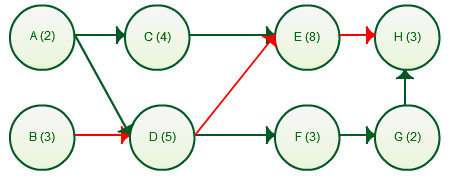 As we sadly enter the last 5 weeks of summer, we sadly are not saying goodbye to COVID. In the south, COVID is raging through populations of young and old, maxing out ERs & ICU's bringing the healthcare system to its knees. Reading headline after headline, I began to wonder what will happen as we approach Cold & Flu season this fall? How will our ERs handle this additional onslaught of "common" illnesses that have remarkably similar symptoms to COVID? The answer I believe lies in triaging & diagnosing symptoms utilizing the critical path methodology.
At its core, the Critical Path methodology illuminates the essential steps critical to the delivery of a product, in this instance a diagnosis or treatment plan. What is the critical path for Covid vs Flu diagnosis? How can hospitals use this business model to create their own critical process? While I can't claim to have all the answers, I see the benefits of hospital administrators giving through a critical path exercise now versus later. Focusing on triage centers, optimizing testing & lab affiliations seem to be essential milestones on the way to determining the critical path for the upcoming Flu season.
Introducing this process into the healthcare system now before the Cold & Flu season strikes would be a proactive step in preventing hospital overload. If a nationwide a critical path was established for diagnosing & differentiating symptoms of COVID & the flu, hospitals could organize & staff appropriately, labs could hire more techs, shifts could be adjusted, or paperwork could be outsourced. Establishing the critical path in this pandemic could prevent another crisis all together.
https://www.scientificamerican.com/article/coronavirus-and-the-flu-a-looming-double-threat/
https://www.sciencedaily.com/releases/2020/05/200529150651.htm