Simple Isn't Always Better: An In-depth Look at B2B Customer Segmentation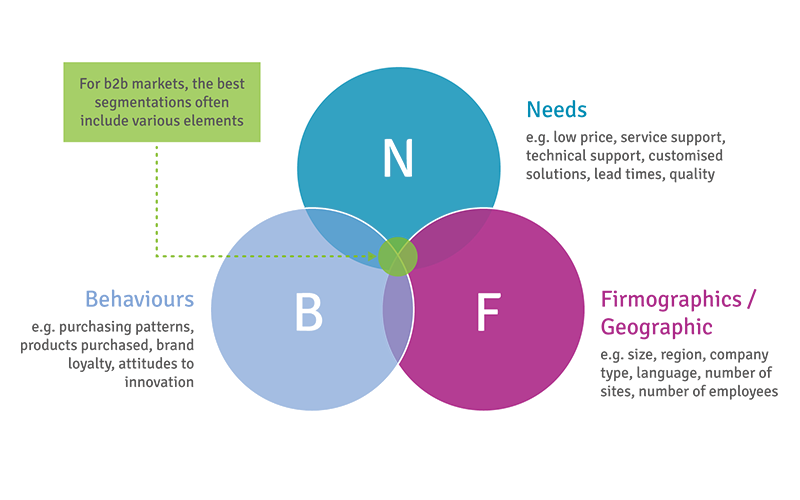 Photo by B2B International, What are the different ways of segmenting b2b audiences?
Customer segmentation for B2B companies is equally as important as market segmentation for consumer-facing companies. Whether a company is selling a product or a service, it is imperative that they accurately segment their customers in terms of similarities and devise a targeted message specific to their segment. However, much like in consumer-facing segmentation, there is no one method that is better than another. It is common to find that businesses who take a straightforward approach to segmentation, often overlook important insights that could be helpful for both obtaining and retaining their customers. My company, J. Ambrogi Foods (JAF), a wholesale produce distributor, fell victim to this methodology like many other companies in the foodservice industry.
One of the most common ways B2B businesses segment their customers is based on firmographics. Firmographic segmentation is much like segmenting based on demographic data. Customers are grouped through factors such as business size, annual revenue, company location, industry, industry segment, etc. On the outside, these factors seemed like the perfect (and easiest) way to segment our customers at JAF. For what we call our street business (independent restaurants or chains with under three locations), we segmented our customers based on their annual revenue and location… and that was it! There were two reasons behind our decision to use just two differentiating factors: (1) the cost of acquiring this data was fairly inexpensive and easy to obtain, and (2) the data was easily distributable to our sales team through CRM.
As you might have guessed, this straightforward approach did not yield much success. From a high-level perspective, it seemed as if this approach was working just fine as customer acquisition was consistent from year to year. However, when you took a deeper dive, it was determined that the growth we needed from year to year suffered from a lack of customer retention.
After determining the need to take a more hands-on approach to customer segmentation, we decided to implement a combination of two methods: segmentation based on tiers and segmentation based on customer needs. Tier segmentation is a method of segmentation based on how well the customer matches the goals of your business.1 Needs segmentation groups customers to what they are looking for/need in a service.1 At JAF, we determined that certain restaurants fell into three different tiers based on criteria such as their cuisine, dining style, menu, revenue, number of tables, and more. In addition to these physical factors, we determined how closely the restaurants valued our business differentiators. This new approach allowed our sales team to go after accounts that would bring business to us over a longer duration of time because they valued what differentiated us from our competitors.
From a marketing perspective, the strategic approach we take to our tier 1 and 2 accounts (and prospect accounts) is drastically different than how we approach our tier 3 accounts. For example, communications that went out to our tier 1 accounts might have focused on our high-quality products or how we will work with them as granularly as possible to deliver service that is custom to their needs. Whereas communications to our tier 3 accounts will include information on produce that they can save money on due to buying trends across the country. By segmenting our customers in this distinct and direct manner, the scope of our communication widened exponentially as we were not having to use generic messaging that applied to all of our customers. Each time we are in communication, we are meeting our customer's needs. Since implementing this new strategic approach, customer retention and satisfaction along with customer lead generation has greatly improved. All in all, we have been much more successful in our customer relationships as a result of a better understanding of customer segmentation and a deeper, well-thought-out analysis of our customers.
1Soffer, A. (2019, October 3). The 5 Most Popular Methods of Segmentation for B2B. Leadspace. https://www.leadspace.com/popular-methods-of-segmentation-for-b2b/