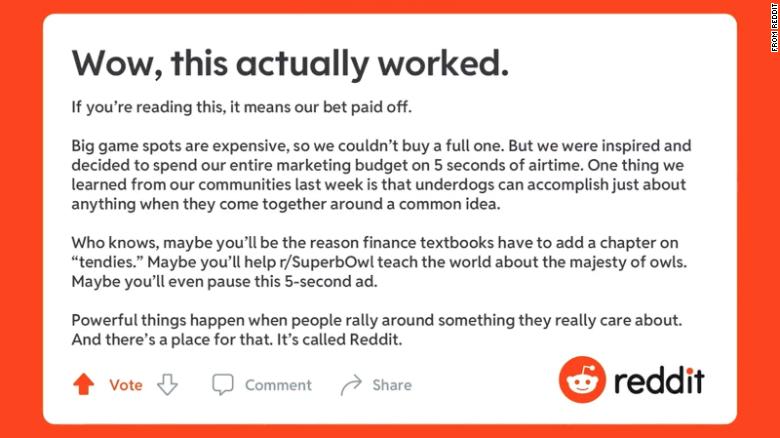 Photo from: https://www.cnn.com/2021/02/07/us/reddit-commercial-super-bowl-trnd/index.html
Every year we see Super Bowl advertisements get more intricate, and we as viewers never know what to expect. 
Between premiering advertisements early, more insane visuals, and more prominent celebrities promoting products, we can all agree that the Super Bowl ads have kicked it up a notch in recent years. With marketers developing innovative ways to differentiate themselves, the Super Bowl provides a massive platform to debut their ideas. 
But along with these ads becoming higher production quality, the price to land one of these spots has also inflated. The cost to land a 30-second advertising slot during the Super Bowl has skyrocketed to seven million dollars per commercial, and yet, more than ever, companies are fighting for their spot. 
In 2021 it cost companies 5.6 million dollars to get their hands on a 30-second advertisement slot. With the number of company-bought commercials shown during the 2021 program, the Super Bowl grossed over 450 million dollars on advertisements alone. With these numbers, companies across all industries argue that even with the hefty price tag, these slots during the Super Bowl are worth it since the large number of viewers justify the price. 
With roughly 100 million viewers a year, The Super Bowl is undoubtedly one of the best places for companies to gain more buzz around their product(s) and brand. 
Spending seven million for the advertisement spot alone and the additional cost to create the ads themselves seems unimaginable for the rest of us. Yet these multimillion-dollar companies view this as an opportunity to see a return on their investment. Companies have reported seeing a 10 to 15% increase in revenue alone when advertising during the Super Bowl.
These numbers are justified further since people continue talking about what they believe to be the best commercial that was aired during the Super Bowl in the following days, if not weeks after the game has concluded. Company powerhouses such as Budweiser, Pepsi, and car companies often come out on top. Still, as recently as last year (2021), we saw Reddit, a social media platform, earn its spot as one of the most talked-about commercials. Reddit showed a post on viewers' TVs for no more than 15 seconds, and yet #Reddit was trending on numerous platforms, and millions were googling Reedit to figure out what the advertisement was and what it meant. 
Viewers, including myself, were confused when the ad appeared as it initially looked as though a Reddit user hacked the Super Bowl and shared their post. However, after millions of us searched for answers, Reddit released that they had released the ad themselves to gain more traction to their website. 
While it would have been awesome to see a user hack the system during the Super Bowl, I think we all had a hunch this was a ploy done by the Reddit marketing team to get us all to search and look more into Reddit. 
This is just one of the hundreds of examples that come to mind when discussing innovative practices for different companies advertising and how they market to viewers. 
I would love to hear from you below.
Do you think that the price point is worth it? Why or why not?
What was your favorite Super Bowl commercial from this year or previous years? Why was it your favorite? 
Sources
https://www.cnn.com/2022/02/11/media/super-bowl-commercials-nbc/index.html

https://www.wsj.com/articles/the-return-on-investment-for-2021-super-bowl-ads-11613730600
Photo by daveynin