I have been a Disney fan for as long as I remember. I have visited the parks in recent times and the trips to all 4 parks have been so seamless. Everything from getting around the park, ordering food, finding show times, attractions, etc. has been easier than ever.  Disney was able to make good use of technology by allowing it to fade into the background so that their narrative and experience could take center stage. Disney strongly believes in building a product/service that its users want rather than what they want. They mix in with their crowds to understand their likes and dislikes. They also engage in all sorts of traditional research to understand their guests, and what they want to expect from Disney experiences.
When they first opened EPCOT, cast members were stamping visitors as they entered a new country. Over time this attracted more audiences but cause some operational issues. The communication between cast members and leadership allowed them to both identify and solve the problem at hand quickly.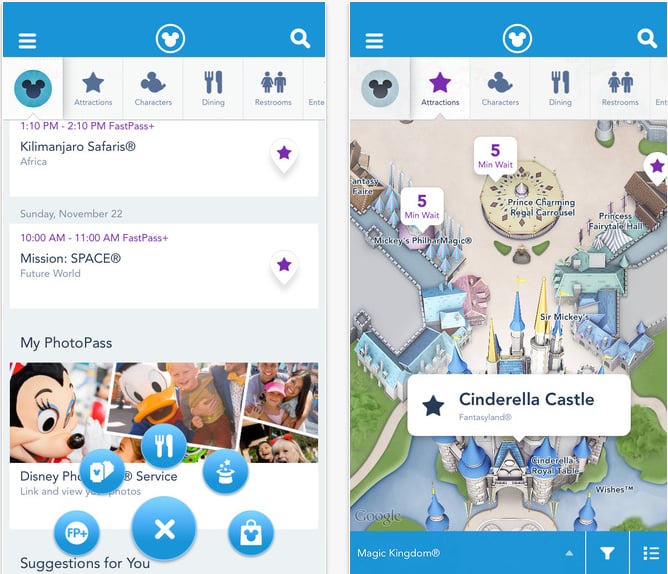 Gathering the right information has helped Disney over years to reduce any gaps that existed in their customer experience. No matter which parks you visit your one goal is to feel happy, and they make sure they incorporate that feeling in their parks, website, and apps. Communicating through a visual representation (Pictures, shapes, textures, colors, etc.) Once you enter the parks the app unlocks additional features and Woo's you. They provide plenty of opportunities like menus, preordering, virtual lines, etc. so you can have a hassle-free experience. When you create a platform that will be used by a large audience daily, keeping it up to date becomes even more important. It is just human nature to point out the broken parts and have a tainted experience. The Next generation experience was launched this summer, where the magic band+ will come alive at various times. Allow users to engage with their favorite moments in ways like never before. The goal is to keep improving the process and aim for unforgettable experiences with every visit.  
Marr, B. (2021, December 10). Disney uses big data, IOT and machine learning to boost customer experience. Forbes.
Sheppard, N. (2019, November 5). Mr walt's wild rides: Five things disney world can teach US ABOUT UX design. UserZoom. Retrieved July 16, 2022.