It's weird to say that I am part of Gen Z. Albeit, I am the start of it.
Gen Z, in terms of its characteristics, boils down to being a digital native that spends an incredible amount of time on mobile phones and social media. We're often considered the generation that never recalls a time where mobile ordering wasn't an option, or that FaceTime was once non-existent, or calling a taxi was really the only way to get from point A to point B.
But that isn't necessarily true. Those who were born between 1997 – 2001 (like myself) recall a time period where people were considerably weirded out by the concept of non-taxi drivers driving you around. Or when apps didn't actually exist yet, and when we still had to download mp3s to load to our iPods, or when navigation systems weren't in cars and our parents used MapQuest to navigate. So in one hand, the advancement of technology and the rise of social media has been a wonder for me: with many trials and errors and a constant update every 6 months with new features to learn.
My sister, on the other hand, is the typical description of Gen Z. She reposts her Instagram post to tell people to check out her new post, or sends daily Snapchats to keep up with her year-long streak, and just recently: told me people order from DoorDash their lunch for school. She's in high school now, and will never carry a textbook in her life. That weirds me out.
For businesses – whether in entertainment, fashion, or even beauty – Gen Z is the generation that determines the brand's online profile. 98% of my generation owns a smartphone, and it's practically embedded into our identity. Moreover, the majority (97%) of Gen Z consumers say they use social media as their top source of shopping inspiration [1].
We have a strong interest in following brands and profiles that align with our beliefs and values. We're often considered loyal customers, and when a brand doesn't align with our beliefs (especially social causes) we are quick to unfollow from their content. This is why businesses must create engaging content that aligns with our language, and not the typical Macy's-like advertisement.
Social commerce allows customers to interact with the brand on another level, read comments as "reviews" and share products with friends in an instant through the social platform. In a way, social media has encouraged brands to constantly advertise their products on a consistent basis through feed postings, stories, or sponsored ads.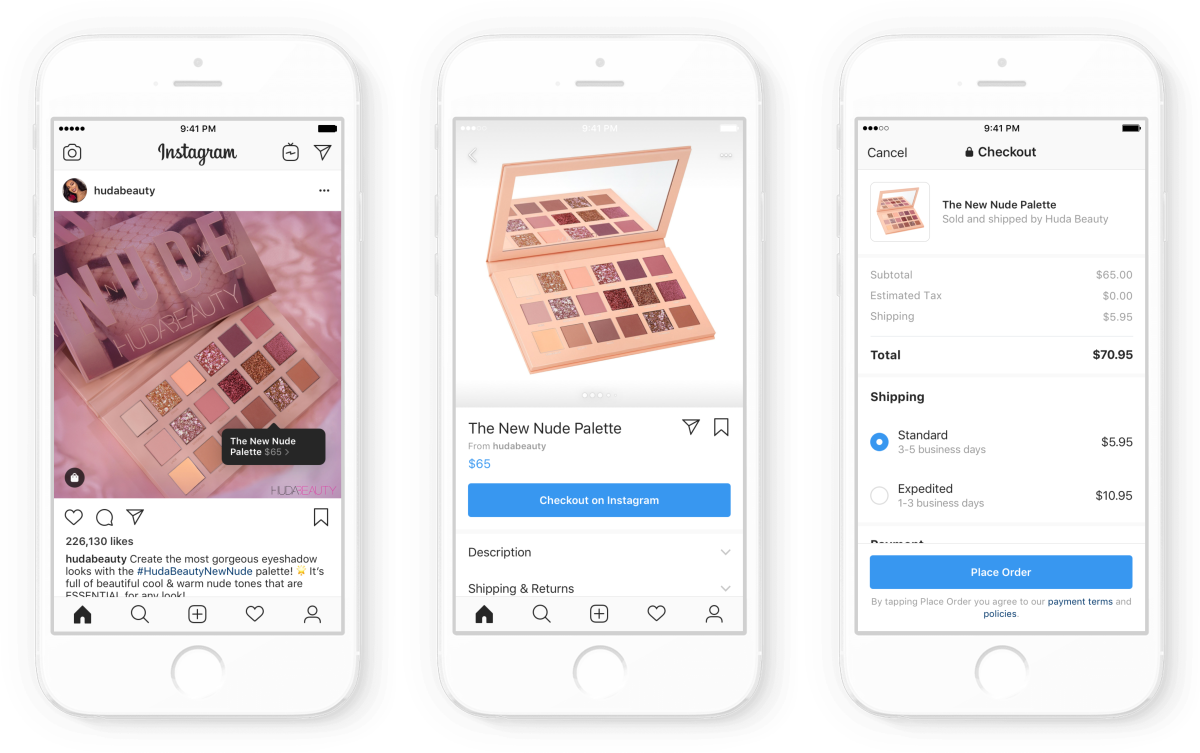 In November of 2020, Instagram implemented shopping features that allowed brands to easily advertise with call-to-actions – such as tagging all the items in a merchandise photoshoot to a hyperlink of where to buy on the business' website (or on the Instagram app itself), or "swipe up" features on advertisements. Facebook's Marketplace allows not only to locally sell a range of items but also sell on a global spectrum – similar to apps like Depop. And while various social media platforms are finding ways to implement aspects of e-commerce onto their sites, influencers are honing in on crafting language that aligns with Gen Z and boosting product sales when the user is NOT on the brand's social media profile.
According to market research firm Kantar, 83% of consumers browsing TikTok say seeing trending content has inspired them to make a purchase. [3] The constant TikToks I've seen for a gua sha had only encouraged me to purchase the product myself and reinforce #TikTokMadeMeBuyIt thanks to the by-product of the various TikTok influencers that have popped up on my "For You" page.
Gen Z is a marvel of a consumer, and the fuel for the future of e-commerce. Social media has always been how Gen Z communicated with the world: a source of inspiration for our style choices, food choices, and more. Now, we have a blind line between social media and online shopping. I strongly believe social commerce will be part of our shopping experience for the long run, as social media has shown us that a brand's online identity determines the trust and purchase from a Gen Z consumer.
—
Sources:
[1] Kastenholz, Christoph. "Council Post: Gen Z and the Rise of Social Commerce." Forbes, Forbes Magazine, 17 May 2021, https://www.forbes.com/sites/forbesagencycouncil/2021/05/17/gen-z-and-the-rise-of-social-commerce/?sh=1d3179aa251d.
[2] Global Industry Analysts, Inc. "Social Commerce – Global Market Trajectory & Analytics." Research and Markets – Market Research Reports, 2021, https://www.researchandmarkets.com/reports/5140143/social-commerce-global-market-trajectory-and?utm_source=GNOM&utm_medium=PressRelease&utm_code=rm7g2f&utm_campaign=1434938%2B-%2BGlobal%2BSocial%2BCommerce%2BMarket%2BWorth%2B%24604.5%2BBillion%2Bby%2B2027%2B-%2BCOVID-19%2BUpdated&utm_exec=joca220prd.
[3] Lacy, Lisa. Shopify and TikTok Take Social Commerce Global. Adweek, 23 Feb. 2021, https://www.adweek.com/commerce/shopify-tiktok-social-commerce-global/.
[4] Fletcher, Hugh. "Gen Z Holds the Key to the Ecommerce Future." Wunderman Thompson, https://www.wundermanthompson.com/insight/gen-z-holds-the-key-to-the-ecommerce-future.