With over 57 million followers on Facebook, 15 million on Instagram, and fan growth rate that's over 10X higher than any other streaming service- there's no doubt that Netflix is doing something right with its social media campaigns. There are a number of contributing factors that have led to Netflix's overall social success, but the biggest benefit Netflix has over its competitors is its own popularity. With 139 million global paying subscribers, it's easy for Netflix to predict which shows will trend just off viewership rate. Netflix has the power to know what shows are trending before other competitors- and can therefore lead conversations first. 
When people watch a show that drops a crazy cliffhanger or plot point- the first thing many want to do is talk about it. Netflix frequently posts short text posts that reference scenes in popular shows (usually scenes that elicit emotional responses) and relatable behaviors. These days, with so many shows to watch, it's become more difficult to talk about shows with our peers. Some people aren't caught up- others are too busy finishing their bucket list of shows, and many refuse to be spoiled. It's much easier to talk about shows online than it is in person now. Each post Netflix makes about a show's most recent episode or highlight is its own forum and opportunity for people to rave and rant about how they felt watching it. 
Netflix does a great job at maintaining this advantage by nurturing its relationship with its users. Posting consistently, polling for what shows should come next, and engaging back with the community are all smart ways to ensure that people know Netflix is listening to feedback – which encourages the cycle of talking about Netflix shows on social media. When someone posts how they feel about a show and tags Netflix, it's more than likely that someone on Netflix will reply back. This is a clear sign that Netflix is listening and watching its own keywords like a hawk.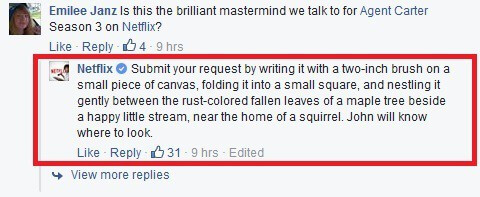 The most notable success of Netflix' social listening is the Netflix socks campaign. Simply from monitoring social media posts, Netflix became aware that people were struggling with falling asleep while trying to binge-watch a show- only to wake up later and having no idea what part of the show they stopped at. The invention of Netflix socks, a pair of tech-enabled socks that pauses your show when you fall asleep, was really just a big joke, but the point was that it showed the world that Netflix was listening to its viewers and even joined in on the meme-making. It even added on to this trend by posting a DIY tutorial on how to make your own Netflix socks, based on the urban dictionary phrase of "Netflix and Chill". It's a bit too literal, since we all know what Netflix and Chill really means- but regardless, the campaign worked its magic and did what it intended to do- it trended. Social listening goes beyond just watching for people to tag your product or company- it requires action that involves interacting back with your customer, and Netflix has perfected this tactic. 
Works Cited
Bhargava, V. (2022, July 27). How netflix uses social listening to stay on top of their content game. Radarr. Retrieved October 2, 2022, from https://www.radarr.com/blog/how-netflix-uses-social-listening/
Gogolan, D. (2022, January 7). [Brand Analysis] How Netflix Uses Social Media to Win People's Hearts. Socialinsider Blog: Social media marketing insights and industry tips. Retrieved October 2, 2022, from https://www.socialinsider.io/blog/netflix-social-media-strategy/
Ramakrishnan, V. (2019, November 21). How netflix's social media strategy dominates the online streaming industry. Unmetric Social Media Analytics Blog. Retrieved October 2, 2022, from https://blog.unmetric.com/netflix-social-media-strategy
Roettgers, J. (2021, December 31). 'you've got to know your sh*t': How netflix reinvented its marketing on Social Media. Protocol. Retrieved October 2, 2022, from https://www.protocol.com/netflix-marketing-to-targeted-audiences
Sima, I. (2016, August 31). A Netflix story: The human approach to social media marketing [infographic]. Social Media Today. Retrieved October 2, 2022, from https://www.socialmediatoday.com/marketing/netflix-story-human-approach-social-media-marketing-infographic