---
There are several ground rules we've discussed during class regarding mobile-marketing strategies that are relevant in any department collaborating to create a successful campaign. As a graphic designer with interest in the UX of things, I want to focus on the concept of mobile-first strategy relative to design thought processes and how it relates to these golden rules:
Rather than focusing on the devices utilized in a campaign, put more effort into developing a process that leads you to an eventual answer on what devices are

needed

. 

The user journey is integral to the campaign and will lead to the overall objective you need to achieve.

By understanding your buyer, you can more successfully create a product that meets all the needs of your user.

By researching behaviors, being flexible, and testing your product – you can avoid failure.

Like in visual design, having too many different features overwhelms the viewer/user. Successful products are created through making hard decisions, not infinitely adding to your product. 
So how is this relevant to design? Or more specifically, how is it relevant to mobile marketing design? When prototyping apps, websites, etc. the number one rule every designer learns is to push for mobile-first. However, understanding why you should design for mobile first develops forward thinking for proper design systems and a better connection to the end user.
In product design, the mobile-first design philosophy is centered around creating the best possible user experience regardless of device by beginning from the smallest possible screen and expanding to the largest. It is without a doubt much easier to expand something out rather than shrink it down when creating scalable content. A small screen minimizes the amount of space you have to work with, and users will only scroll so much for you. You are essentially forced to make the difficult decision of prioritizing certain interactions and content. The opposite philosophy to progressive advancement is "graceful degradation", where a designer would slowly remove non-essential features as they make room for smaller screens. However, during this process the difference between essential and non-essential features starts to blur and may cause your design to look inconsistent across platforms and sizes. 
Mobile-first means content-first, which is a practice that can be applied in any stage of the marketing process. Give your users what they need, and only what they need. If there is a need for decorative flourish, it's essential it doesn't distract your user from the information they want. It's product design, not a piece in an art gallery. (If it is in a museum, go nuts I guess.) In Pivot's podcast episode Snap Inc.'s Evan Spiegel at Code 2022 featuring Snapchat's CEO's Q&A, an audience member asks what Snap can do to compete against companies with larger investment funds when it comes to product innovation in AR glasses. I want to end this post with a (self-made) transcript of his response that gives a lot of food for thought on this specific concept we're talking about.
"Capital is not always a predictor of success…Many of those companies that are spending a lot more money aren't having to make hard choices, and design is all about those hard choices and tradeoffs…And when you have lots of money and someone presents you with three options you say let's do all three. And that means that ultimately over time you miss the opportunity to learn and to iterate and evolve the product as quickly as you could if you were really constrained by the amount you could invest…" (Swisher & Galloway, 2022, 29:29)
---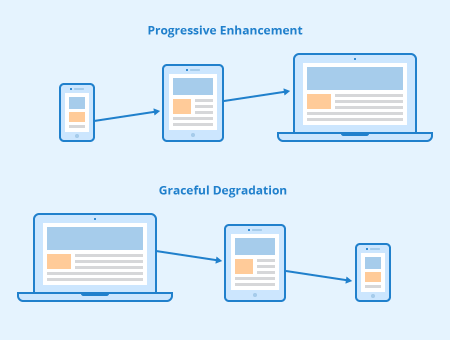 Works Cited
Carlson, B. (2022, February 15). Content-First Design: Let the Content Determine the Design. Balsamiq Wireframing Academy. Retrieved September 15, 2022, from https://balsamiq.com/learn/articles/content-first-design/ 
Morales, J. (2021, February 16). Mobile First Design Strategy: The when + why: Adobe XD ideas. Adobe XD Ideas. Retrieved September 15, 2022, from https://xd.adobe.com/ideas/process/ui-design/what-is-mobile-first-design/ 
Rowles, D. (2017). Mobile Marketing: How Mobile Technology is Revolutionizing Marketing, Communications and Advertising (2nd ed.). Kogan Page. 
Swisher, K, & Galloway, S. (Hosts). (2022, September 10). Snap Inc.'s Evan Spiegel at Code 2022. In Pivot. New York Magazine. https://podcasts.apple.com/no/podcast/snap-inc-s-evan-spiegel-at-code-2022/id1073226719?i=1000579027238