Clean Ocean Action (COA) Profile 
A 35-year-old nonprofit environmental activist coalition of 125 community groups focused on protecting the waterways of the New York Bight through, education/research,  government policy creation, and citizen activism. COA is headed by Cindy Zipf who's 35 years of work has led to the closure of 8 offshore dumping sites that dubbed the New York Bight as the "Ocean Dumping Capital of the World."
COA's coalition is comprised of 125 active boating, business, community, conservation, diving, environmental, fishing, religious, service, student, surfing, and women's groups, which they have nicknamed "Ocean Wavemakers".  These are 125 communities of services that all have a vested interest in keeping the Waterways of the New York Bight clean.
The funding the Ocean Wavemakers provide is used by COA to research the sources, effects, and solutions to waterway pollution.  COA uses that research to educate the public, and the members of their coalition on the source of pollution and the effects on marine life in the area. They also use this research to formulate new policies, regulations, and campaigns to eliminate the sour
ce of pollution.
Once a source of pollution is identified, Ocean Wavemakers are then required to use their own personal experience, and expertise to help shut down the source of pollution.  They do so through the use of press releases, rallies, public hearings, and engaging members in the community to educate them on the harm of ocean pollution to the marine environment, and economies of the surrounding communities.
To help spread their message, and get the community active in the cause, they engage non-coalition members through educational programs, rallies, beach sweeps, and other events.  All these events are designed to grow their coalition numbers and get members of the community active in protecting the waterways and beaches.  COA develops personal relationships with volunteers, community members, and coalition members throughout the entire process.  COA wants the members of the local community and their connections to the ocean to be heard in their own voices so that they can share why they want to keep the marine life of the ocean and rivers in the area pollution-free.
Events and Activism
One of Clean Ocean Action's most well-known type of events is their beach sweeps.  They hold them throughout 70 locations throughout New Jersey and are a popular way to not only get the public to help out in cleaning up the beaches, but it also raises awareness of the importance of preserving our environment and oceans.  People of all ages are encouraged to participate, increasing the potential to convert beach sweepers into donors and regularly active participants within the organization.  In addition, they hold corporate beach cleanups that bring groups of people in from their workplaces to come together and sweep the beaches.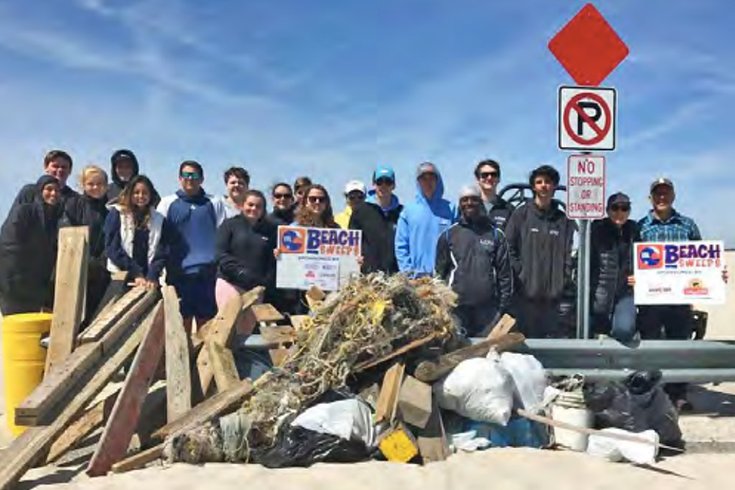 COA also has several environmental action and education programs.  They provide various programs aimed at school-age children of various grade levels.  For younger kids, they do presentations meant to raise awareness; and for middle-school and older students, they do more curriculum-based lessons that are paid for by a minimum donation.
Rally for the Navesink is an activism initiative that Clean Ocean Action takes part in.  COA is one organization in an alliance of many dedicated to furthering education and legislative changes aimed at preserving the Navesink River watershed.  They find it important to take part in improving not just the health of the beaches but to get to the root of the problem and work toward cleaning up the waters that lead to the ocean.  They also regularly participate, and advocate for the participation, in rallies to stop projects that are disruptive to the environment, such as oil pipelines.
COA has several events that they advertise through their social media that aim to engage the public such as yoga on the beach, their "The Open" surf contest, beach-front film screenings (educational movies/documentaries such as, The Oyster Farmers), and annual fundraisers hosted by popular brands and organizations like AVEDA Salon.
Who They Are
Clean Ocean Action is a non-profit coalition of 125 groups dedicated to improving the marine water quality at the New Jersey and New York coast. COA is also a national voice and advocate for marine health through science, law, research, and education. COA provides an organized platform for "Ocean Wavemakers" to volunteer to improve marine life.
What They Do
COA successful campaigns:
Improve programs and laws that protect public health at swimming beaches
Reduce plastics and litter that pollute waterways, spoil beautiful beaches, and harm or kill marine life including turtles, whales, seals, birds, and fish
Protect coasts from oil and gas drilling in the ocean, including Maine to Florida
Establish the nation's first Clean Ocean Zone to start a national chain reaction for all coasts
Reduce toxins in waterways to ensure fish and shellfish are free of pollution and safe to eat
Educate and motivate citizens from the small to the tall
Current Marketing Overview
Analysis of current marketing channels;
An outdated website where the majority of their content is housed on the homepage
1,000 newsletters (physical mail)
12,000 e-mail list
12,000 Facebook
6,500 Instagram
5,371 Twitter
3 YouTube
Communication via social media is limited especially in regards to finding volunteers, retaining volunteer information, and distributing helpful information. There is a current disconnect between the information "provided" on the website and the information shared on social media. Newsletters, email campaigns, and information on the website revolve around events and seeking volunteers. However, events such as the Beach Sweep are far and few between.
The target audience is truly anyone that will volunteer and stay engaged however, COA is hoping to better target millennials in the New York/New Jersey area. This desire to target millennials sparks from lack of engagement in all levels from volunteering, participating online, and overall engagement with a cause they believe in.
Why It Matters
Empathetic readers engage and donate. Acquiring financial, social, and human resources are necessary to expand reach. These resources also fund research and technology to reverse the effects of marine pollution. The rising concern in environmental impact has led us to COA and its initiatives to better the environment, one waterway at a time. The challenge to upgrade and update COA's current digital presence has been selected because of the efforts and success they've made thus far. A revamped digital strategy will help COA reach more of its target audience; millennials, and get them to heavily engage with the mission.
Brand Messaging
The messaging being shared by COA is relevant but cluttered. Articles and topics that are related to the overarching cause such as limiting plastic use are shared. Pollution and beach-related content makes up over 20% of the sum of organic impressions for COA's Facebook.
The subjects of communication should focus on evoking empathy and educating readers. Followers engage most with content about animals and plastics. Content can also play to human's natural tendency to reap the benefits of doing good. COA should create donor personas to have different messaging for different types of donors/ volunteers.
Source: Tableau; COA Feb to Aug Facebook Content
Brand Opportunities
A non-profit organization seeking to gather resources and fundraise must be approachable and accessible. But, COA's brand is failing at being approachable and accessible digitally. The current brand strategy does not engage its digitally savvy market. Trust is important when sharing information digitally. Outdated site and forms, lower brand trust and engagement. In efforts to fulfill long-term social goals, and increase brand trust, they must strengthen the internal capacity, the participatory process, and the donor management system.
Brand Tone

Informative
Relational
Educational
Personable
Positive

Value Proposition

Provides access to marine life education and a platform to fulfill one's environmental obligations

Competitive Advantage

All about action

Inspiring users to take action to make a difference

Highlighting the fun

Never forget that the beach is a fun environment for people

Building a community

Foster a group of like-minded individuals

Providing education

Establish COA as an expert in all things ocean & marine related

Humanize efforts

Make it easy for the users to relate to COA on a human level

It's a movement

Focus on long-term plans to make a major impact
Resources –
https://www.cleanoceanaction.org/index.php?id=334
https://blogs.constantcontact.com/nonprofit-branding/
https://www.classy.org/blog/5-smart-brand-strategies-nonprofits/
https://ssir.org/articles/entry/the_role_of_brand_in_the_nonprofit_sector