Over the last decade, consumer habits have evolved to a point where it seems like almost everyone lives a majority of their lives through a screen. From the minute they wake up in the morning to the moment just before they close their eyes to sleep at night, and hours upon hours in between, people have made their mobile device(s) a vital part of their daily routine. They check their emails, scroll through social media, order food, network and communicate, sit in on meetings, swipe on dating profiles and consume media all from their phone. For a society where a cell phone is a lifeline, it makes sense that marketers want to meet consumers where it's convenient and frequent to them, especially for Gen Z and Millennial audiences.
One interesting mobile marketing tactic to emerge in the last few years is the concept of taking television characters and other elements of the plot and bringing them into the "real world" through unique promotional campaigns on dating apps. As two of the leading dating apps, it's no surprise that Bumble and Tinder have capitalized on some of the most widely discussed shows to drive engagement on their apps. On the one hand, Tinder has been using this tactic for almost a decade. In 2014, Tinder sponsored "fake" profiles for characters in the FOX show, The Mindy Project, that perfectly reflected who the characters were and called on users to tune into the show to learn more about them. Recently, they carried out a similar campaign with the launch of She-Hulk: Attorney at Law on Disney+ by creating a profile for the titular character that encouraged anyone who "matched" with her to reach out to their IRL match(es) and watch the show – a win/win for both!
Bumble's strategy was carried out with a different approach. Fans of the Apple TV show, Ted Lasso, may recall that one of the most pivotal storylines of the latest season centered around the fictional dating app called Bantr. The concept of Bantr took away the vanity characteristic of dating apps and modern dating by having users interact solely via written communication (no pictures) to encourage genuine connections based on personality and not looks. With this unique take on the dating experience, Bumble decided to partner with the show to recreate the Bantr experience on their own app where users could opt in to be matched and engage with one another without any photos being revealed from either party in the initial conversation.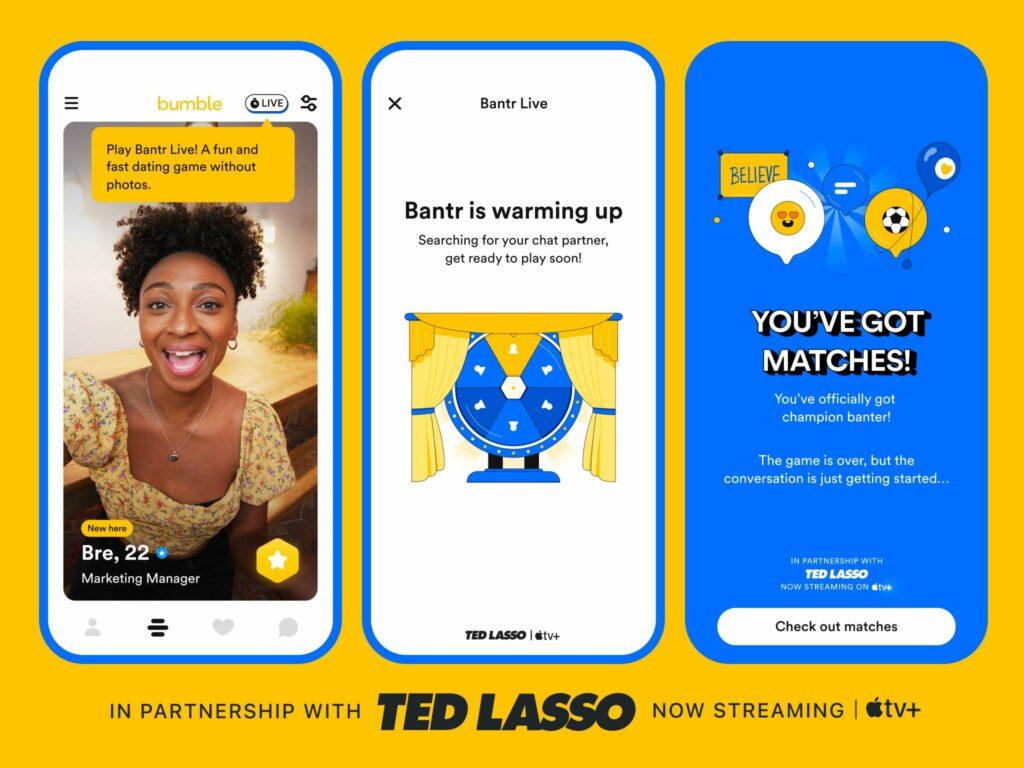 What makes these campaigns so brilliant is how the ads have been seamlessly integrated into the audiences' habits on the app. The ads appear as users are swiping through potential matches and  it happens in a way that is not disruptive. The campaigns also make sense for the shows in which they are promoting. For example, a major part of Jennifer Walters/She-Hulk's arc is her trying to find love on dating apps, and the Bantr app formed one of the most important relationships on the latest season of Ted Lasso. This is important because it takes that niche group of people who are both fans of the shows and users on the apps and helps them form meaningful connections with characters they can relate to while also enforcing the idea that these dating apps can help them make meaningful connections in their own lives.
While these campaigns have had a mostly positive outcome thus far, there can be some negative impacts as well. For example, anyone who may be unaware of the shows or characters could mistake the ads for a real profile. This has happened before with promotion for tEx Machina where users thought they were actually talking to a woman named Ava on Tinder when in reality it was an artificially intelligent profile created for the film. Scenarios like the incident with Ex Machina solidifies the need for marketers to know and be mindful of the fine line between fun and fraud. The profiles can be playful and authentic but the difference between what's real and what's not should always be made obvious to the user.
References:
Baar, A. (2022, October 13). Bumble recreates "Ted Lasso" fictitious dating app. Marketing Dive. https://www.marketingdive.com/news/bumble-ted-lasso-apple-bantr-dating-app/634073/ 
Buchholz, K. (2022, July 1). The Most Popular Dating Apps in the U.S. Statista. https://www.statista.com/chart/24404/most-popular-dating-apps-us/ 
Creegan, M. (2014, February 7). Fox (and Mindy) push limits of native advertising. CNBC. https://www.cnbc.com/2014/02/07/fox-and-mindy-push-limits-of-native-advertising.html
Felt, K. (2022, August 13). Yes, Disney Just Made a Tinder Profile for She-Hulk. The Direct. https://thedirect.com/article/she-hulk-tinder-disney-photos
Plaugic, L. (2015, March 15). Studio promotes Ex Machina at SXSW with a fake Tinder account. The Verge. https://www.theverge.com/2015/3/15/8218927/tinder-robot-sxsw-ex-machina