It's the worst-kept secret that college and university websites offer some of the most frustrating user experiences for prospective students. I've personally seen the challenges on both ends as a prospective student and as a university employee. I worked in an Undergraduate Admissions office as a student and the job relied heavily on our ability to navigate the school site. One of the most common complaints we've received from students and their parents were attached to their difficulties navigating the website – and even some current students couldn't get the hang of it after being at the school for years. So why is this experience so daunting?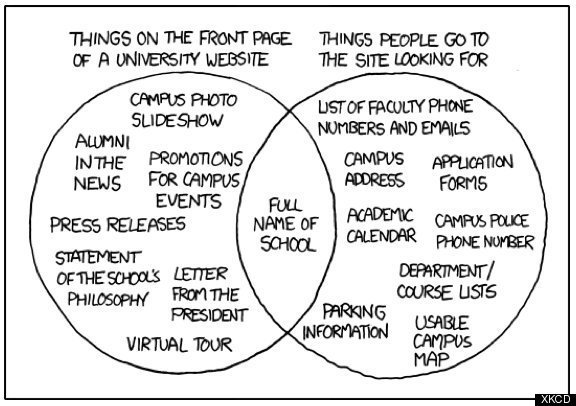 For one, many are users are first-time students or students who are first-generation college attendees who do not have guidance from people who have gone through the experience before. As a result, oftentimes these students have no idea what they're looking for or where to find it and they rely on site searches to help them find what they need. However, site searches on these sites can open up a can of worms. Unless a user is super specific within their search, there's no telling what might come up. Additionally, when colleges/universities update their sites, they often archive the old pages which still come up in site search results and cause confusion as users are unable to distinguish between what is current and what is outdated. Information on these sites can be super tricky to find if you don't know exactly what you're looking for.
Another downfall for these sites is a lack of consistency within design. Depending on the institution, different colleges/schools  within one university may manage their department's sites differently or use different systems than others. There's no synergy which makes the user experience less than ideal. One department may have a clean and intuitive interface while another can be a total disaster, which ultimately reflects poorly on the university and their inability to be cohesive.
Lastly, university sites either face issues of information overload or a lack of information altogether. Don't get me wrong, the more helpful information you can provide to prospective students, the better it is for them. However, these sites often make the mistake of using jargon in their copy or not having a clear call to action which can make the user experience quite overwhelming. For example, if a student is researching a major of interest and they are unable to find a clear and detailed description of the program and what they can hope to get out of it, or if they are unsure of what to do next (sign up for info session, submit an application, etc.), then the university could lose very valuable stakeholders in its students.
Resources:
https://www.bostondigital.com/insights/6-reasons-why-college-students-hate-your-website
https://www.truematter.com/ideas/post/worst-content-mistakes-higher-education-websites-make
https://www.linkedin.com/pulse/5-things-college-websites-do-wrong-chola-michelle/
https://www.huffpost.com/entry/why-college-websites-suck_n_670018