In case you missed it, KFC's Colonel Sanders is now a woman, portrayed by Reba McEntire, in their newest ad promoting their new Smoky Mountain BBQ fried chicken.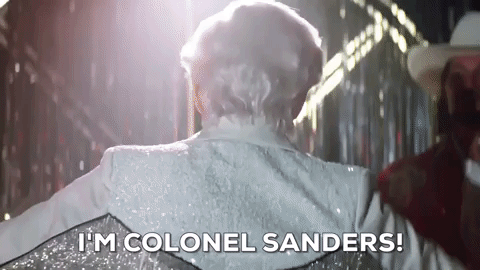 In a press release, KFC's Chief Marketing Officer Andrea Zahumensky said:
"With Reba's southern roots and entrepreneurial spirit, she truly embodies the values of the Colonel and the crowd-pleasing flavor of our Smoky Mountain BBQ. The pairing of a universally loved music legend like Reba with a universally appealing flavor like Smoky Mountain BBQ makes what I like to call 'Smoky Mountain Magic.'"
I have teetered on whether this ad campaign is a hit or a bust. It is definitely a bold move, portraying the androgynous version of a mascot that was depicted beforehand as a "chipper-looking old southern gentleman."
In fact, Colonel Harland David Sanders was indeed a real human being. "He was born in 1890 Kentucky, and was made an honorary Kentucky Colonel in 1935 by Governor Ruby Laffoon, five years before he finalized and began selling the 'secret recipe' for what would become KFC."
Getting back to the point, I wanted to see how the changing of a mascot can affect a brand, in this case, KFC. During this semester, we've learned that brand is the most important element to a business. When the ad was released, "Colonel Sanders" was trending on Twitter. I also noticed that #ImWithHer hashtags were included in some Tweets. Too Fab published an article summarizing a handful of Tweets into one post. It definitely created the buzz KFC was after.
In Online Branding: a digital-centric approach to developing brands, we've learned that the use of social media can be a key tool in competitiveness and content strategy.
When KFC took to Twitter, they Tweeted out a list of hashtags to use to promote the ad campaign. In my opinion, this was the key to KFC's success because they were able to track each tweet so they could monitor accordingly.
According to a Paste Magazine article, 13 comedians, actors and wrestlers who have portrayed Colonel Sanders in a series of commercials since 2015 were ranked. Reba McEntire came in at number five.
How do you feel about KFC's "Smoky Mountain Magic" ad campaign? Do you think other competitors in the fast food space will poke fun of the ad for their next campaign, or will we get to see a Burger Queen or Mrs. McDonald?